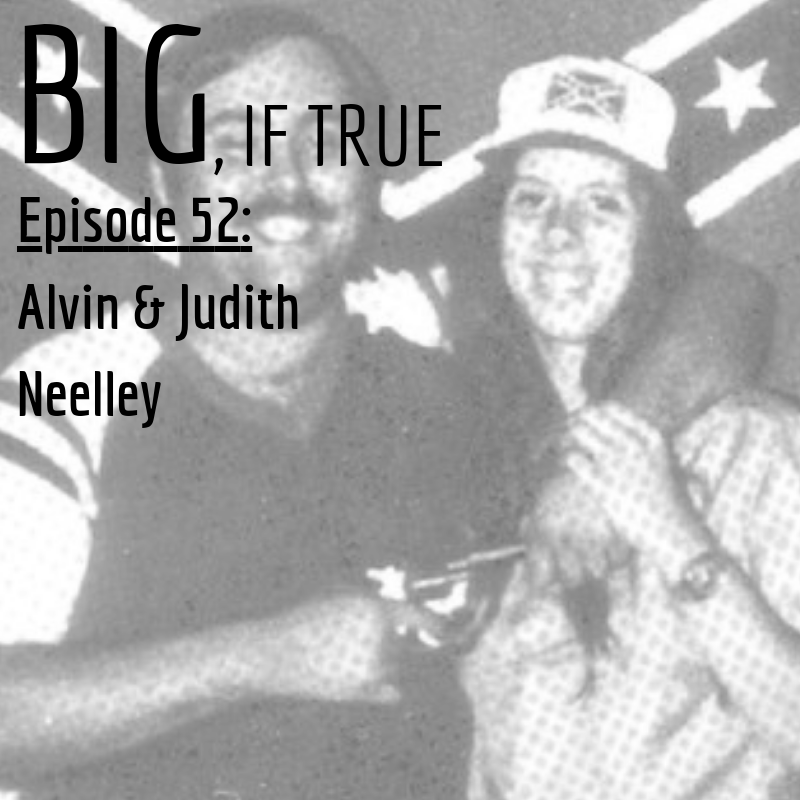 26-year old Alvin Neelley and Judith Ann Adams met in 1980 when Judith was just 16-years old. After quickly eloping, the two would go on a prolific crime spree that saw them rob banks and commit a number of other petty crimes. After being arrested and finally reunited in the Fall of 1982, Alvin and Judith Neelley would severely escalate the intensity of their crimes, savagely kidnapping, raping, and murdering 13-year old Lisa Ann Millican and 22-year old Janice Kay Chatman. These crimes would lead Judith Neelley to becoming the youngest woman ever sentenced to death in the United States. In the second episode of our "Deadly Love" series, we take a look at the heinous crimes committed by Alvin and Judith Neelley.
Support Big, If True on Patreon at www.patreon.com/bigiftrue
Subscribe to Big, If True on Apple Podcasts, Google Play, Stitcher, or wherever you listen to podcasts - while you're at it, leave us a rating or review telling us what you love about the show!
Email us at: bigiftruepodcast@gmail.com
Follow us on:
Twitter: bigiftruecast
Instagram: bigiftruecast
Facebook: bigiftruecast
Tumblr: bigiftruecast.tumblr.com
Minds: bigiftrue
Gab: bigiftrue
Intro/Disclaimer: Josh McLellan (http://www.fiverr.com/joshmclellan)
Music: The Devil's Rejects by Rob Zombie