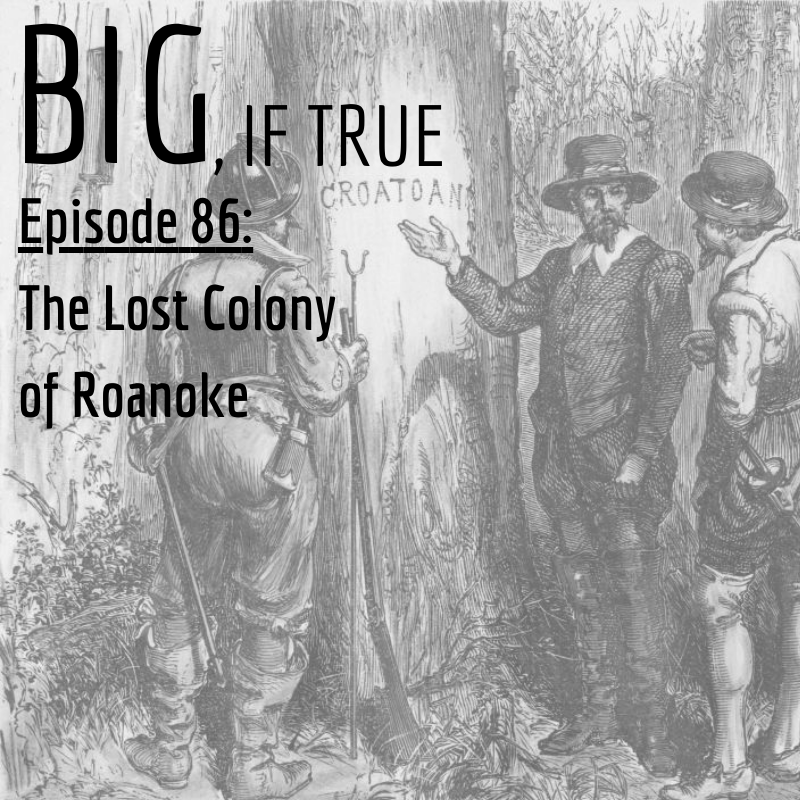 In March 1584, Queen Elizabeth I granted a charter to Sir Humphrey Gilbert, allowing him to explore and settle areas of the New World that had yet to be claimed by the Spanish. What followed were several disastrous attempts to form settlements, with colonists being met with shipwrecks, food shortages, hostile aboriginals, and disease. In 1587, Governor John White finally established what was supposed to be the first permanent English settlement in the New World at Roanoke Island. In August 1587, White was forced to leave the Roanoke colonists behind in order to sail back to England for supplies and reinforcements, and to inform the Queen about the complications the colonists had run into. A series of unfortunate events led to White being unable to return to the New World until 1590. Upon his return, White could find no trace of the colonists - what happened to the Roanoke colonists is still unknown today.
On this episode of Big, If True, Matt and Kayla discuss the lost colony of Roanoke, including the long history of colonization attempts, theories about what happened to the lost colonists of Roanoke, and much more.
Support Big, If True on Patreon at www.patreon.com/bigiftrue
Subscribe to Big, If True on Apple Podcasts, Google Play, Stitcher, or wherever you listen to podcasts - while you're at it, leave us a rating or review telling us what you love about the show!
Email us at: bigiftruepodcast@gmail.com
Follow us on:
Twitter: bigiftruecast
Instagram: bigiftruecast
Facebook: bigiftruecast
Tumblr: bigiftruecast.tumblr.com
Minds: bigiftrue
Gab: bigiftrue
Intro/Disclaimer: Josh McLellan (http://www.fiverr.com/joshmclellan)
Music: https://www.purple-planet.com