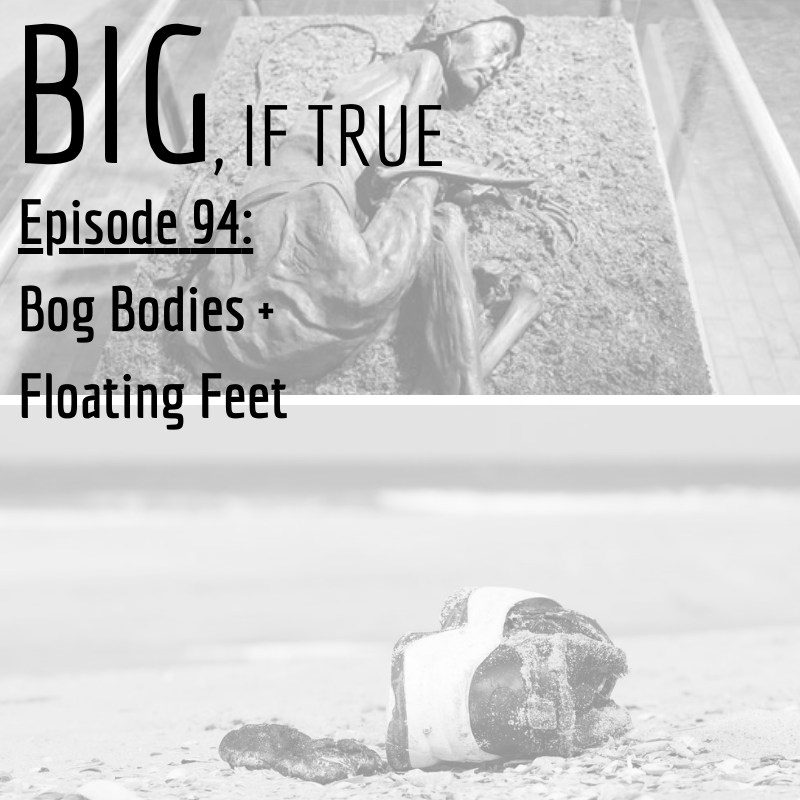 For hundreds of years, well-preserved bodies of ancient humans have been found in the bogs of northern Europe. These bodies have been inadvertently protected by the bogs that have become their final resting place, offering valuable insight into the lives of Iron Age Europeans. Archaeologists, though, have wrestled with one question - why were these bodies dumped in the bog, rather than buried or cremated as was custom?
Fast forward to present day British Columbia and Washington, where disarticulated feet have been washing up on the shores of the Salish Sea since 2007. These floating feet instantly became a major hit with the media, who posed questions about how they washed ashore - were these the victims of a serial killer or brutal drug cartel, or is the real explanation much more mundane?
In a very special double episode, we take a look at the history of bog bodies and the Salish Sea floating feet phenomenon with one question in mind - how the heck did that get there?
Support Big, If True on Patreon at www.patreon.com/bigiftrue
Subscribe to Big, If True on Apple Podcasts, Google Play, Stitcher, or wherever you listen to podcasts - while you're at it, leave us a rating or review telling us what you love about the show!
Email us at: bigiftruepodcast@gmail.com
Follow us on:
Twitter: bigiftruecast
Instagram: bigiftruecast
Facebook: bigiftruecast
Tumblr: bigiftruecast.tumblr.com
Minds: bigiftrue
Gab: bigiftrue
Intro/Disclaimer: Josh McLellan (http://www.fiverr.com/joshmclellan)
Music: https://www.purple-planet.com